SHARE YOUR SPIRITUAL JOURNEY. HEAL FROM PAST RELIGIOUS TRAUMA.
DEEPEN YOUR CONNECTION WITH SELF AND SPIRIT.
RETREAT AT UNITY VILLAGE
June 29 – July 1
REGISTER NOW for Celebrate Your Divine Identity! An LGBTQ+ Pride retreat at Unity Village, MO. This will be a time of sacred fun, deepening your spiritual journey, connecting with community, and celebrating your perfect right to be the beautiful expression of the divine you already are!
Inspiring music, interactive keynotes, wisdom workshops, sacred ceremony, transformational art and meditation experiences, and of course- a drag show! All on the beautiful Unity Village campus. You will leave with a renewed sense of belonging, a more expansive understanding of your divine identity, and tools to navigate your spiritual journey free from religious trauma. Unity Church of Overland Park is the sponsoring ministry of Folx with Faith and this retreat.

PRICE:
EARLY BIRD: $349 through May 15th
FULL PRICE: $399 beginning May 16th
Price includes retreat and five meals (3 dinners, 2 lunches). Accommodations and transportation are not included.
ACCOMMODATIONS: 
Hotel rooms are available at the award-winning Unity Village Hotel and Conference Center.
Take advantage of discounted hotel accommodations when you register online for this event. In your confirmation email you will receive a link with details about how to reserve your room. Must reserve by May 16th to receive the hotel discount.
You will have the opportunity to immerse yourself in the peaceful prayer and meditation gardens at Unity Village. Enjoy the nature trails, labyrinth, Rose Garden, fountains, prayer chapels, and more.
REGISTRATION:
Sign up here. Tickets are available through June 15th.
UCOP INVITES YOU TO JOIN "FOLX WITH FAITH," AN LGBTQIA+ AFFINITY GROUP
Meets on 4th Saturdays, 10:30am-12n at Plexpod Lenexa and on Zoom. Doors open at 10am. Register for the Zoom link or ASL access.
Folx with Faith invites you to explore spiritual topics, learn from presenters and panels, socialize, and connect. All are welcome to attend whether you are questioning, out and proud, exploring your identity and expression —  and wherever you are on your spiritual journey.
Unity honors all paths to God and the diversity of human expression. For more information about Unity, visit ucop.org.
You are also invited to join the "Folx with Faith" Facebook group.
NEXT MEETING: April 22, 2023 Join us for a presentation on Setting Intentions: Crystal Bowls Meditation!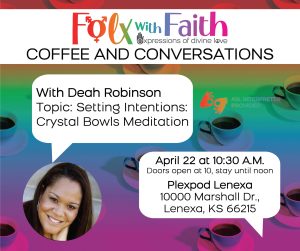 OUR MISSION
By creating safe spaces to explore and experience spiritual wholeness, Folx with Faith supports the LGBTQ+ community to celebrate our authentic selves which empowers us to make a difference in the world.
A few of our past presenters and events: