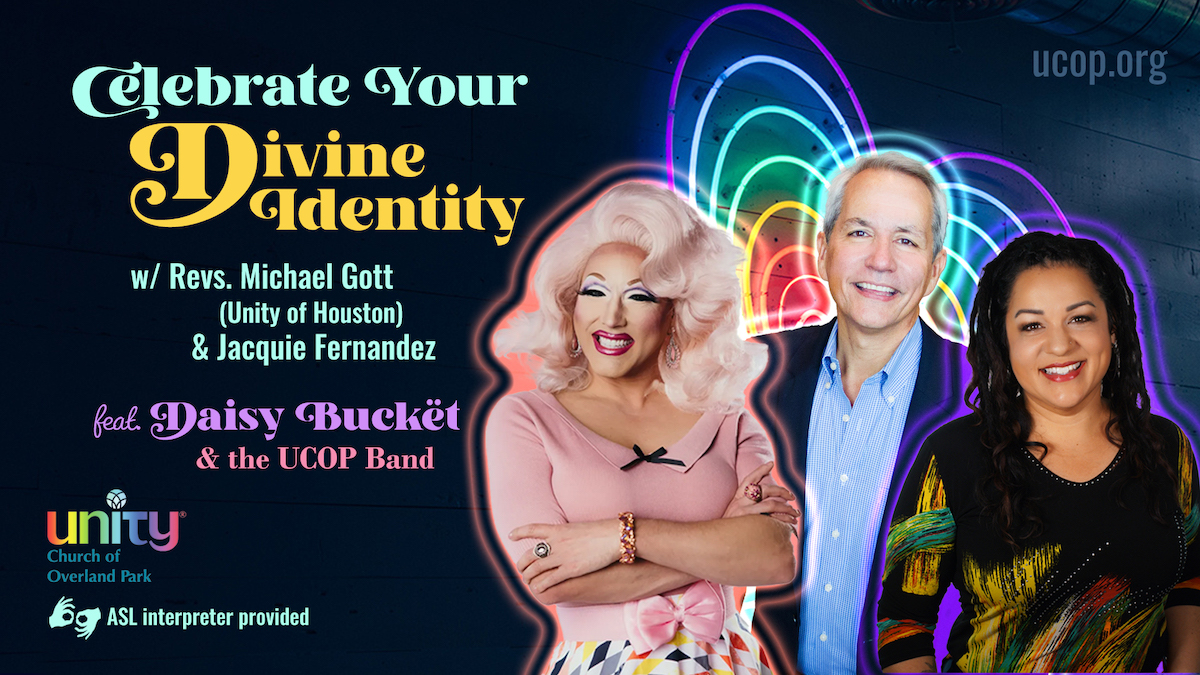 This is not a drag story hour, but you will have a drag story to tell after this special Sunday service!
Come meet a powerhouse, the inimitable Daisy Buckët, described as "a scene-stealing force of nature" by the KC Pitch.
When: July 2nd, 10 a.m. Doors Open at 9:30 a.m.
Where: Unity Church of Overland Park, Plexpod Lenexa
Cost: No cost! Only gain!
---
Unlike most drag queens, Daisy sings rather than lip syncs and she is an amazing talent!
Daisy has been at the beating heart of Kansas City's drag community for more than 15 years.
Guest speaker Rev. Michael Gott (Unity of Houston) shares the theme "Celebrate Your Divine Identity" alongside Rev. Jacquie Fernandez.
In addition, we look forward to welcoming those who have been enjoying the LGBTQ+ retreat at Unity Village for this power-packed Sunday designed for everyone!
We are thrilled to welcome Daisy Buckët for her debut Sunday Celebration at Unity Church of Overland Park! What a blessing!
---
Never been to a Unity service?
You are WELCOME! 🏳️‍🌈 Learn more about the Unity teachings and what we practice and believe here.   Every service is

ASL interpreted.
---

Daisy might best be known in her role as the lovable beehived Trampolina in America's Favorite Dragapella Beautyshop Quartet, The Kinsey Sicks, where she's appeared with them on Watch What Happens Live! With Andy Cohen, RuPaul's Drag Race (Season 8 Finale), and ABC's The Gong Show.
She's garnered high praise from Forbes Magazine and The New Yorker and a featurette on CNN. In 2020, she released her tenth album, "Quarantunes".
She's raised well over $100,000 dollars for the AIDS Service Foundation of Greater Kansas City.