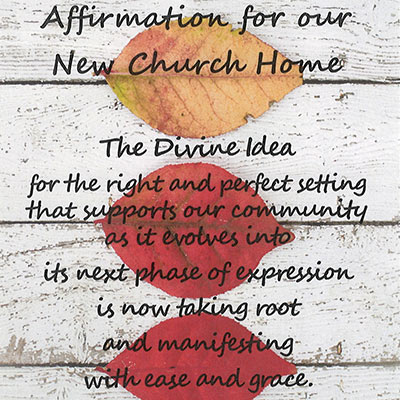 As many of you may have heard already, the Board of Directors has amazing news. We have sold our building! Grace Christian Church purchased our building for our full asking price of 3.3 million dollars. Our closing date is April 30th. We negotiated a lease back option which ends on August 31st, with the ability to extend our lease, at 30 day intervals, for another 2 months, or until Oct. 31st, 2018.
Take a moment, right here and now, to gauge your initial reaction. Just sit with your thoughts and understand what you are feeling right in this moment. For some of you, this will signal a genuine sense that Spirit is moving in and through this process, and you will feel very at ease and at peace with this outcome. Some will feel an initial sense of sadness, or excitement, or fear of more unknown. Please know that all reactions are honored and valued here. They are all a legitimate part of the journey we have undertaken.
For the Board and Ministerial staff, this sale, and the way it came together, feels absolutely, without a doubt, in the Flow of Spirit.
We are also preparing for next steps in terms of where do we move to. The location, we absolutely trust, is waiting for us, but has not yet been revealed. We have a group, The New Building Committee, which consists of members in our congregation representing real estate, building, finance, marketing, Spiritual Leadership, and Board leadership. The purpose of this committee is to first and foremost seek our new Church home. We see that it is possible that we will have a temporary church home until our new permanent home is ready and finalized for moving in. We are utilizing our realtor to seek available space for sale and for lease, and will begin the process of touring existing structures as we seek the right and perfect location and building to serve the needs of this community, in the present and well into the future.
With a tremendous sense of gratitude to our entire congregation, the entire staff, and to the guidance of Spirit, we continue to move forward on this journey. Please, join us in holding the following affirmative prayer in your daily prayer and meditation practice:
"The Divine Idea for the right and perfect setting that supports our community as it evolves into its next phase of expression is now taking root and manifesting with ease and grace."
And, finally, I would like everyone to say a special thank you to Allen Carl for the tremendous amount of work he did to close this deal, and the outstanding job he did, on behalf of the UCOP community with negotiations, managing feedback from numerous board members and advisors, seeking legal guidance, and keeping a smile on his face (most of the time!). He deserves a huge pat on the back.
As more about our journey becomes clear and known, we will work to keep our community updated – from the Platform, in our e-blast, on Facebook, and in person.
In deep gratitude,
The Board of Directors
Tiffany Crabtree – President
Mike Jensen – Vice President
Allen Carl – Treasurer
Candice Wolken – Secretary
Tom McNamara
Joy Springfield
Cathy Combs
Rev. Brandon Nagel