Welcome to Absolute Abundance!
Welcome to the UCOP spring Sundays and Small Groups series: Absolute Abundance! One of our five core values is abundance: We know that God is our Source and celebrate the unlimited possibilities present in every moment.
Start with Our Ash Wednesday Healing Service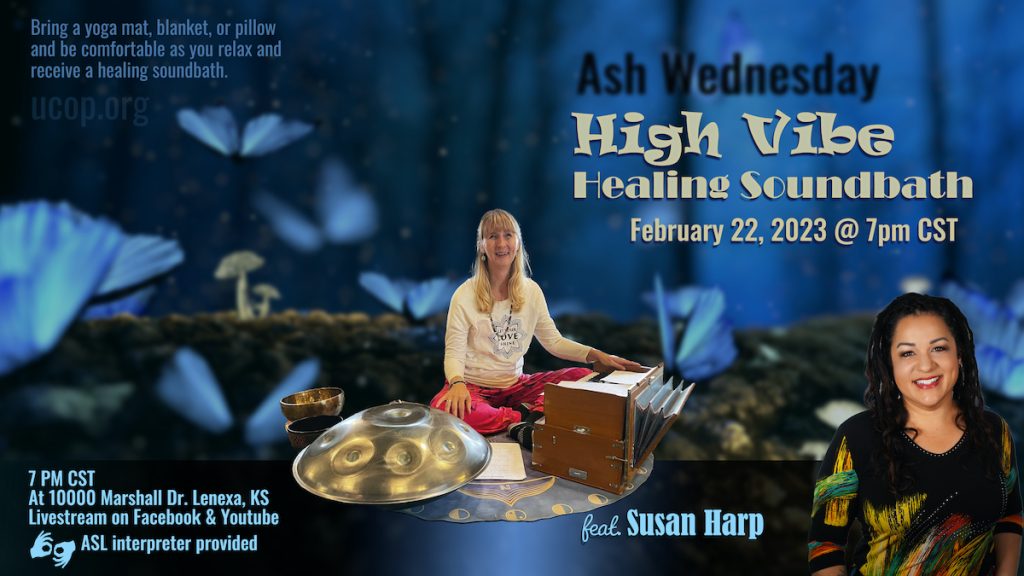 Following the Lenten calendar, we will kick-off the Absolute Abundance series with our Ash Wednesday, High Vibe Healing Soundbath service at 7pm on Feb. 22nd.
You are invited whether you plan to participate in small groups or attend the Sunday series, or if you just want to join in for this powerful healing experience!
Bring a yoga mat, pillow, and/or blanket so you can comfortably soak up those high healing vibrations!
Helium balloons will be available for deaf folks to participate by experience the healing vibrations through the balloons, ASL interpreter is provided.
Small Group registration is open!
We have a variety of facilitators who will be offering in-person or online small groups. So find the time, day, and place that works best for you! Small Groups will begin meeting the week of Feb. 26th and end the week before Easter Sunday.
We will be using the First Steps curriculum as part of the Absolute Abundance (Pathway to Permanent Prosperity) ministry created by Rev. Ken Daigle, senior minister at Unity of San Francisco.
A modified workbook will be available for this small group experience, an adaptation by Rev. Jacquie.
This program is an interactive, experiential format in which you will share your journey, offer support, and discuss topics during Small Group sessions.
The materials include current research, daily and weekly practices, and enrichment exercises. These will coincide with our Sunday messages.
What is the First Steps Curriculum?
First Steps focuses on a number of fundamental concepts, including the power of your thoughts, the roles of gratitude and giving, and the importance of visualizing your life.
First Steps participants start to build the practice of giving by what they are comfortable. No one will be checking up on you or judging your choices; this is truly designed to help you experience permanent prosperity!
This series familiarizes participants with New Thought teachings. (Hint: it's not all about money!)
Weekly topics include:
the power of thought,
attitude of gratitude,
visioning your life,
reshaping your relationship with $$,
more = give, grit, and joy!
Registration for both in-person and Zoom classes is now available. Sign up now.